HOTEL FACILITIES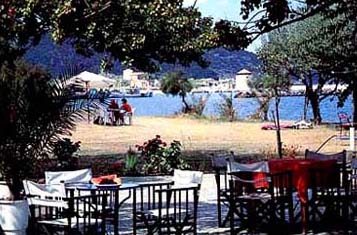 NO SWIMMING POOL
In front of our hotel, for 800 meters, there runs an unspoiled, natural coastline, with quiet beaches and warm safe waters, which are pleasant for swimming.

NO ROOF GARDEN
Nine acres of gardens, full of Mediterranean flowers ad fruit trees, surround the hotel and lead down to the sea, with no roads in between. And you can pick a lemon for your gin & tonic.

NO SAUNA,NO HYDROMASAGE
Relax in one of the areas Ottoman-built thermal baths and feel the of the island's natural hot-water springs easing the aches from your body.

NO WATER SPORTS
But if you wish to take one of our peddle boats or canoes please feel free. And yes they are free!

No TV IN THE ROOMS
For a few days forget the television, just relax with a book, perhaps by one of the island's famous authors, or watch the slow action of the day unfold I front of you along the seafront and around the old fishing harbour.

NO DISCO IN THE HOTEL
Instead classical music wakes you gently as you enjoy our speciality breakfast under the trees on the waterside terrace; traditional Greek music accompanies your dinner in the restaurant and cool jazz helps you relax after dinner as you enjoy a drink under the dazzling moonlit sky. (But if you really need a disco, the nearest one is 4 kilometres away!)

NO AIR CONDITIONING
The welcoming breeze from the Aegean, which cools the islands even in the height of summer, blows gently from your balcony through the room, providing the best air conditioning you could wand.

NO MINI MARKET IN THE HOTEL
Small shops in the old port offer all you need to fill the refrigerator in your room and won't empty your pocket.

NO "GREEK TAVERN" IN THE HOTEL
A few minutes walkthrough the hotel gardens to the old port. You will find friendly local taverns, serving freshly caught fish at their waterside tables to both locals and visitors at very reasonable price

NO "GREEK NIGHTS" IN THE HOTEL
Local celebrations on the island such as traditional "Feast Days" offer the chance for guests to experience genuine Greek traditional hospitality or "FILOXENIA".