MONASTERY OF YPSILOS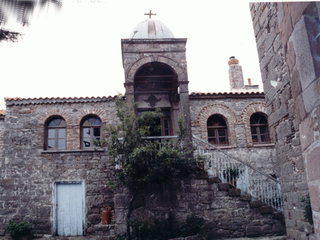 The monastery of Ypsilos, an active men's monastery, is dedicated to St John Theologos and is located in the west part of Lesbos, on the top of Mt Ordymnos, at a height of 634 m and at a distance of 81 km from Mytilene. Tradition places the foundation of the monastery in Byzantine years, before A.D. 800, and mentions it as "Monastery of Korakas", a name which was modified to "Monastery of Zisira" in the years of the Turkish occupation.

From its Byzantine phase very little information has been saved and is believed that the monastery was abandoned and devastated in late Byzantine years. The monastery flourishes again in post-Byzantine years but it is destroyed by fire. The existing katholikon (main church) was built in 1832 and constitutes part of a monastic complex, which develops around the katholikon.

In the monastery there is a particularly interesting vestry as well as a library with important manuscripts.