MONASTERY OF THE TAXIARCHES AT MANTAMADOS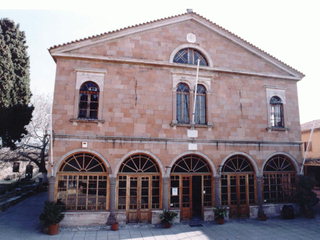 The monastery is situated at a close distance from the village Mantamados, in the north-east part of Lesbos, 36 km from Mytilene and it constitutes one of the most significant places of pilgrimage on the island. In the past, it functioned as men's convent and is mentioned for the first time in an ecclesiastical document from 1661.

The small church of the 17th century was replaced with a bigger one of the 18th century, in the place of which the present church was erected from top to bottom in 1879, following the architectural type of the three-aisled basilica.

The monastery complex develops parametrically around the church, adding a fort-like character to it. In the church's interior and, more specifically, in a luxurious canopy from 1766, the wrought-in-relief icon of Taxiarches is kept, which -according to tradition- was made with soil and the blood of the monks who were slaughtered by pirates.

Of folklore interest is the custom of the bull's slaughter, which takes place on the anniversary of the church's inauguration.